PM Speech to Kurdistan Parliament on new KRG cabinet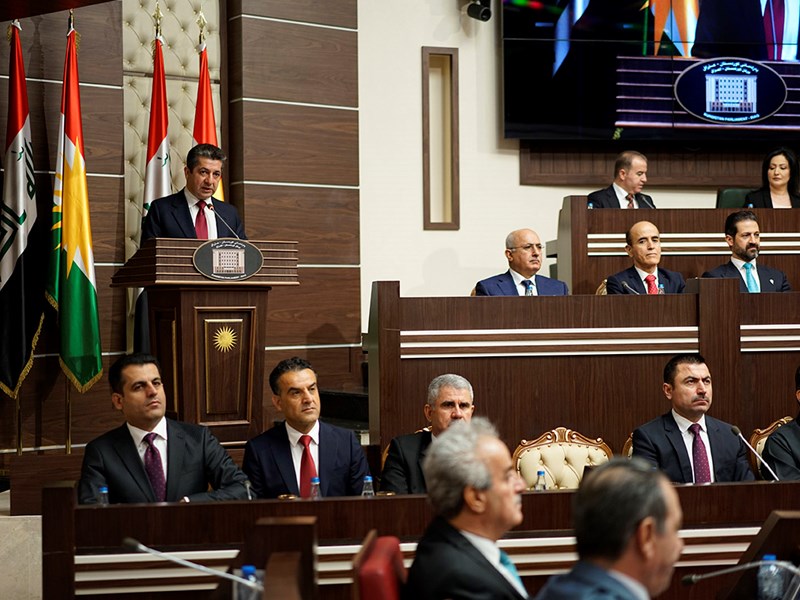 In the name of God, the Most Gracious, the Most Merciful.
Speaker of Parliament:
Members of Parliament:
I'm very pleased that my colleagues and I were swore in today, after winning the trust and confidence of this parliament.
Thanks to the sacrifices of our people and the bravery of our Peshmerga heroes, we have been able to form this new cabinet of the Kurdistan Regional Government (KRG). The cabinet's formulation is additional evidence of Kurdistan's strong commitment to democracy and the peaceful transfer of power to this region.
I would like to pay tribute to the people of Kurdistan who participated in the democratic elections on 30 September 2018. We thank them for their patience during the process of forming a strong government to protect unity among our political parties.
I would also like to extend my sincere appreciation to His Excellency President Masoud Barzani. Under his leadership, the spirit of resistance and defence endures, and because of that we have been able to resist hardship and gain victory for our people over our enemies.
I would also like to extend my gratitude to the previous cabinet and especially my dear brother Nechirvan Barzani. During the recent difficult times, they continued serving our citizens and accomplished many achievements.
Presidency and Members of Parliament:
I would like to thank you as representatives of the people for having confidence in me, my deputy and the ministers. We will do our best to repay your trust.
Ladies and Gentlemen:
Our plans for serving the people of Kurdistan will form the roadmap for this ninth cabinet of the KRG.
Most of the parties now in this government talked about the importance of providing better services to our people. We are determined that these wishes will now be realised. We will make service to citizens this government's highest priority and our main duty, without any exceptions.
There are high expectations for this cabinet and we fully intend to meet them. In the meantime, we ask our dear citizens to recognise the difficulties, challenges and problems we face. These obstacles cannot be overcome overnight. So we have to help each other.
Above all, this government will be frank, transparent and realistic, as we make every effort towards solving our region's problems.
Ladies and Gentlemen
According to opinion polls, fighting corruption is our citizens' top priority. Consequently, this cabinet will prioritise the introduction of anti-corruption reforms. Although corruption is an awful phenomenon, it has not taken root in Kurdistan. With the combined efforts of our people and this government, we will win the fight against corruption. There will be no tolerance of corrupt people or practices in Kurdistan.
MPs, dear citizens
All my ministerial colleagues were put forward by their political parties. As ministers of the KRG, they will implement the agenda of this cabinet. I will not allow any minister to impede any of the government's programs. These honourable ministers should know that their ministries exist only to serve the people of Kurdistan; they do not act for any political party or private interest. We are a government for all of Kurdistan, that serves all of our people.
Ladies and Gentlemen:
We have taken on the responsibility of a government with billions of dollars in debt. These accumulated debts were a result of difficult financial conditions. Our citizens and friends in Iraq should realise that the responsibility for most of these debts rests with the federal government in Baghdad. It did not pay salaries to Kurdistani employees or pass on our share of the federal income. Consequently, our government already faces a difficult financial situation. But we will do our best to overcome it.
Today I have explained the main points of the cabinet's agenda. We have set ourselves impressive goals, and we have the will to implement them. We now have a lot of work to do.