Prime Minister Masrour Barzani Meets Russian Foreign Minister Sergei Lavrov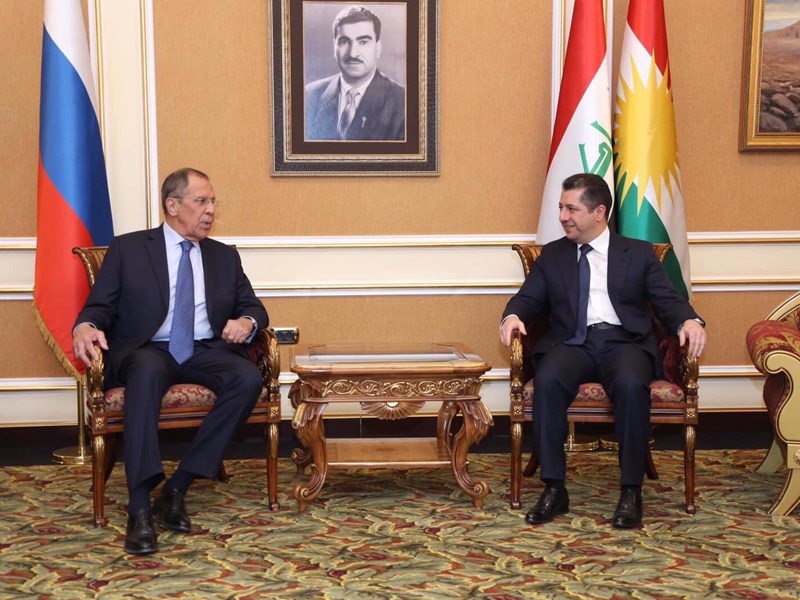 Erbil, Kurdistan Region, Iraq (GOV.KRD) – Prime Minister Masrour Barzani on Monday received a Russian delegation headed by the Foreign Minister Sergei Lavrov.
Minister Lavrov congratulated Prime Minister Barzani on his new role heading the Kurdistan Regional Government.
In his discussion with Prime Minister Barzani, Minister Lavrov acknowledged the persistent threat of the so-called Islamic State in Iraq and discussed current developments in Syria.
Prime Minister Barzani urged Russia to help Syria work towards a lasting political solution, one which protects the rights of all the peoples of Syria, including the Kurds. The two officials agreed that meaningful representation and the participation of the Kurds in the Syrian peace process is key to ensuring long-term stability in the country.
Recognising the importance of protecting the security and stability of the Kurdistan Region, Minister Lavrov expressed his country's readiness to further invest in the region. In addition to Russia's support for the role of the Peshmerga and Kurdish forces in Iraq and Syria in defeating the so-called Islamic State, Minister Lavrov highlighted the Kurdistan Region's investment potential.
Prime Minister Barzani consulted with Minister Lavrov on further opportunities for Russian investment in oil and gas, as well as incentives for foreign investors in the mining, agricultural, and industrial sectors. Minister Lavrov also discussed launching direct flights between Erbil and Moscow.
Prime Minister Barzani updated Minister Lavrov on the constructive dialogue between the Kurdistan Regional Government and the federal government of Iraq, underpinned by the Kurdistan Region's rights enshrined in the constitution.