Prime Minister Masrour Barzani addresses Peshmerga Forces on Kurdistan Flag Day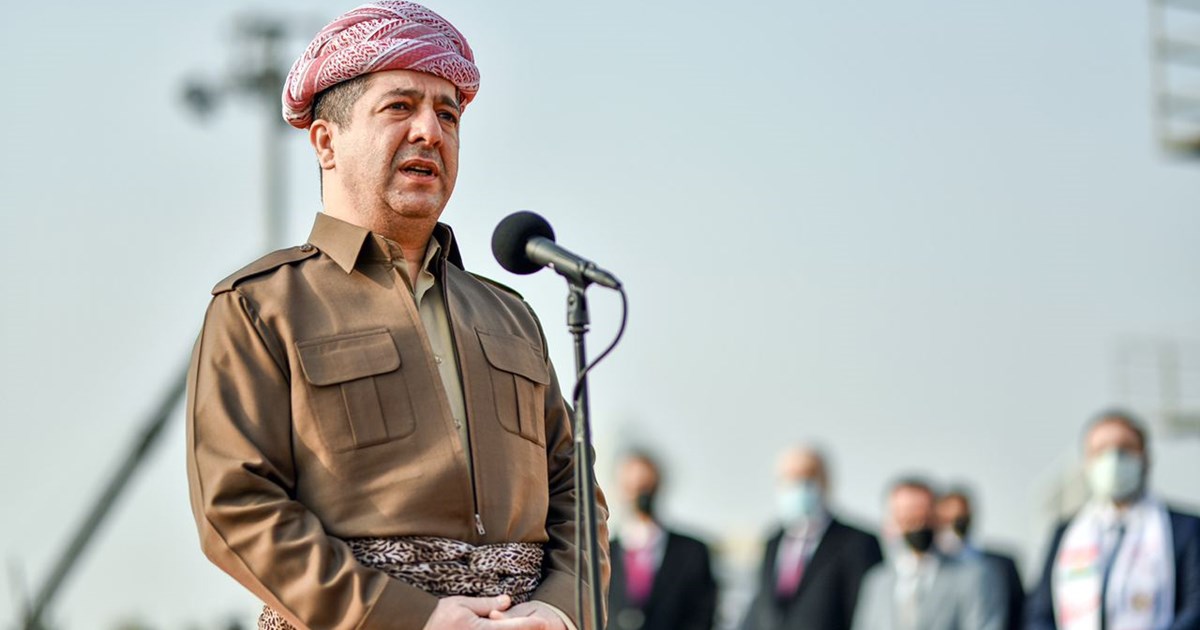 Erbil, Kurdistan Region, Iraq (GOV.KRD) – Prime Minister Masrour Barzani on Thursday took part in a ceremony, held at the Peshmerga's Zeravani Command Center in Erbil, to commemorate Kurdistan's Flag Day and honor those who made the ultimate sacrifice to defend it.
In his address to Peshmerga fighters and the people of the Kurdistan Region, the Prime Minister said:
"I join our brave Peshmerga fighters and the people of Kurdistan in commemorating Kurdistan's Flag Day. This flag is a symbol of our struggle, sacrifices, nation and homeland. Thousands of Peshmerga have fallen defending this flag, which was handed over by the late Leader, Qazi Muhammad, to our immortal Leader, Mustafa Barzani. The flag was protected, honoured, and raised atop Kurdistan's mountains. Under the leadership of President Barzani, this flag was and continues to be respected and flown in capitals around the world and anywhere our allies find themselves.
"This flag is an emblem of our nation and homeland, and a symbol of peaceful coexistence for the various religious and ethnic groups living here. It has become a symbol of coexistence for the different nations in Kurdistan, and freedom-lovers who have turned to Kurdistan as the land of peace, freedom, tolerance, and peaceful coexistence between different nationalities.
"It is the duty of each and everyone one of us to honour and respect our flag, and protect the dignity of our homeland. On this occasion, I call on the youth and future generations to remember the sacrifices we have made to preserve the dignity of our nation under this flag. Thousands of Peshmerga fighters and patriots have fallen defending the dignity of our nation, which cannot be bought or sold.
"I commend the Peshmerga Forces for their continued service, sacrifices, and tireless endeavors to protect our flag and honour our martyrs. Today, we are proud to continue serving our nation under this flag.
"I call on all political parties in Kurdistan to unite behind our common goal, protecting our achievements under this flag and ensuring a better life for all communities living in Kurdistan.
"I commend you all for your resilience, and wish you continued success. May Kurdistan's flag continue to fly with honour and dignity."