PM Barzani chairs cabinet meeting on public finances, fight against coronavirus pandemic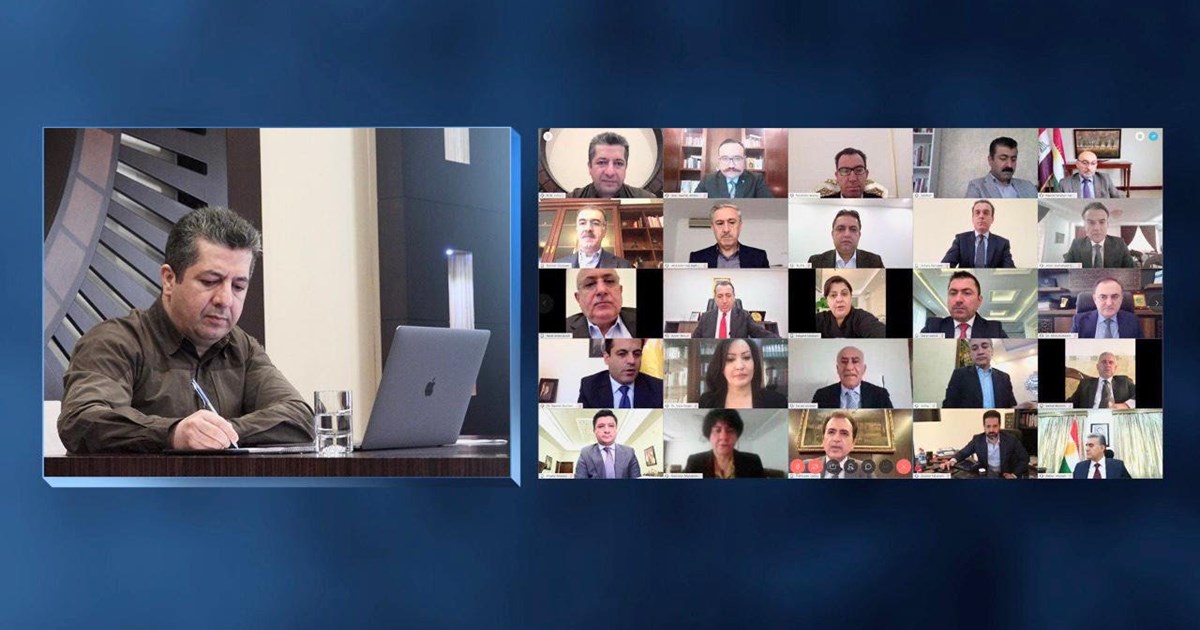 Erbil, Kurdistan Region, Iraq (GOV.KRD) - Prime Minister Masrour Barzani chaired a video conference cabinet meeting today to discuss the Kurdistan Region's financial situation in light of the coronavirus pandemic, its economic implications, the drop in oil prices and the government's plans to reform public expenditure.
Prime Minister Barzani told the cabinet that despite the dramatic fall in revenues, the government will do all it can to ensure the region's people are least affected. He added that the government's current priorities cover public health, food and salaries.
Prime Minister Barzani said that economic diversification in all sectors, particularly agriculture, is at the heart of his cabinet's agenda. Therefore, the government fully supports the programs of the Ministry of Agriculture and Water Resources.
The Kurdistan Regional Government decided unanimously that their main priority is keeping civil servants' pay unchanged, while members of the cabinet agreed to offer half of their wages and bonuses for the next two months to the government treasury, for redistribution to low-income families.
The meeting reviewed and approved a draft proposal for implementing the KRG's 2020 reform agenda, that would guarantee the salaries of public employees.
Prime Minister Barzani tasked a legal committee with finding a mechanism to alleviate the financial burdens on daily wage earners and tenants who have been affected by the lockdown against the coronavirus.
The KRG approved a motion by the Minister of Finance and Economy to reduce non-essential public and ministerial expenses in order to maintain the civil servant payroll.
The ministers of education and higher education presented a report on the state of schools and learning centers across the region, and the cabinet supported a plan for the consolidation of the school year through online courses.
The Minister of Health, Saman Hussein Muhammad, updated cabinet members on the fight against the coronavirus. The government backed an initiative that would allow the Ministry of Health to acquire all medical equipment and medicine in direct coordination with governors and district administration heads.
The Prime Minister and his cabinet applauded the heath and law enforcement agencies for their ceaseless efforts to keep members of the public safe, and called on everyone to continue complying with the government's health instructions.
COVID19 related links
Coronavirus